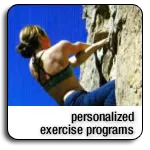 Our Exercise Rehabilitation programs utilize functional exercises that have proven to be most effective at returning an athlete to his/her sport, or an injured worker back to work are developed for every patient who we train. The exercises are centered around releasing tight and painful symptoms, stretching and strengthening to encourage more ideal movements. The goal of each program is to develop posture and stability, which will in turn assist in building strength to overcome physical challenges in work and athletic pursuits.
The focus of all exercises is on quality of movement, and developing functional strength and flexibility so that your body becomes more adept at perform daily activities and hobbies. Core stability is a primary aspect of exercise rehabilitation, and most exercises work from this central aspect out to the rest of the body. From the research of the American College of Sports Medicine (ACSM), adapted Pilates-based exercise, yoga-based poses, Chiropractic rehabilitation methods, and Paul Chek personal training. A specific, personal set of exercises which facilitates soft tissue healing, decreases pain sensation, and effectively prevents re-injury will be developed specifically for each training client.
Montellese Family Chiropractic brings you Personal Training Individuals who suffer chronic neck and low back pain, injuries, and/or poor posture benefit from the specific muscle strengthening and joint releasing effects of the exercises, with each program tailored specifically to the client (and their injury).
Individuals with osteoporosis and the elderly find that the exercises enhance flexibility, circulation, and increase muscle mass, important factors in preventing osteoporosis.
Exercise rehabilitation programs are individually designed for each person based on her or his needs. Each exercise focuses on strengthening the body's essential supporting muscles to develop pelvic and scapular stability, in addition to the clients individual goals with seeking a trainer.
Call us now at (831) 655-3255 to schedule your appointment or chiropractic consultation.